Skip to Content
Learning Through Discovery
At Montessori Children's School, we're all about self-teaching and learning through discovery. What is Montessori? Developed in the 1800s by doctor and educator Maria Montessori, the Montessori method of education focuses on children's learning and development through exploration. The theory is that children learn more and develop a greater interest in future learning and dedication to education when they are encouraged to teach themselves rather than being told what to do.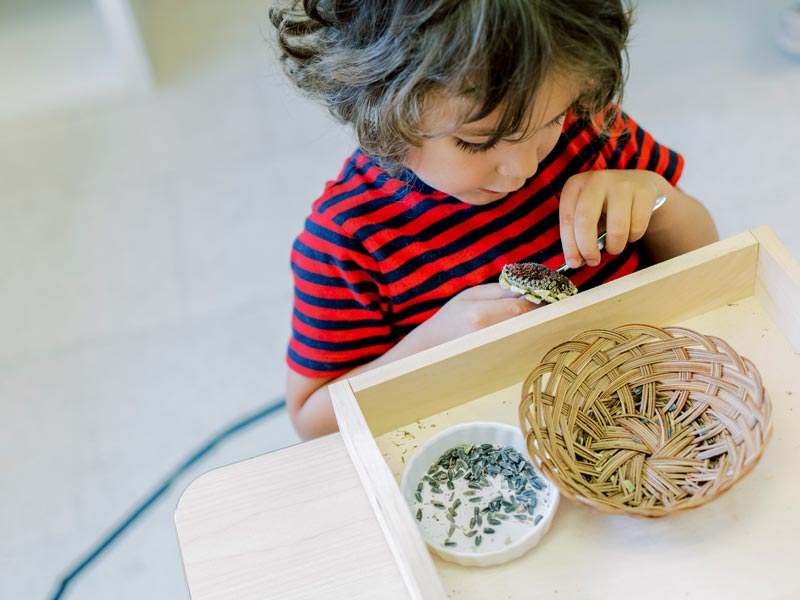 Children Develop at Their Own Pace
The Montessori setting is a child-centered environment, focusing on children's learning. Activities are generally done individually or in small, self-selected groups, with infrequent whole-group lessons. In our program, children progress at their own pace, moving on to the next step in each area of learning as they are ready. While the child lives within a larger community of children, each student is viewed as a universe of one. Each classroom at Montessori Children's School offers a prepared environment which allows children to develop at their own pace. Materials and "jobs" are carefully made to self-teach the child. This is referred to as "control of error" which enables our teachers to evaluate the child's understanding and to correct the child without negative reinforcement. The goal is to motivate the child to learn and experience independently within a safe structure, teaching children to enjoy learning and discovering.

Social Dynamics & Structure
Social dynamics and structure are attained by helping children make choices based on their feelings. Our program cultivates the child's mind by teaching strategies that include monthly virtues and the language of those virtues, guiding behavior and helping children learn to choose actions which lead to positive results. Through these strategies, we establish a foundation of respect for others and for the environment that stays with children throughout their lives.

School Readiness
Our school readiness program focuses on preschool and pre-kindergarten, preparing children both socially and academically. Pre-K children are offered a homework program that helps to build the very important home/school connection. Parents are encouraged to attend planned Parent/Teacher conferences in January and June to stay informed and involved in each child's development and mastery of skills.

Holistic Approach
The Montessori method is a holistic approach to teaching which focuses on each child as an individual with distinct needs, interests, and personality. Our teachers guide children through discovery of their environments, spontaneous activity, and exploration of concepts. Children are encouraged to move freely within the limits and ground rules of the community, with gentle and positive redirection.
Come Explore and Learn With Montessori Children's School!