Skip to Content
Learning Areas of the Montessori Classroom
Ignite Your Child's Natural Curiosity
Every child is eager to explore, discover, and figure things out. Maybe your toddler loves learning about dinosaurs, or perhaps your 4-year-old spends all of their time drawing and painting. Here at Montessori Children's School, we have something to spark every child's innate curiosity. Our teachers are dedicated to providing a wide variety of learning opportunities and materials that follow your child's interests as well as exposing them to new experiences and ideas. The Montessori classroom will inspire your young learner to explore and make new discoveries. Check out the learning areas your child will experience at our school.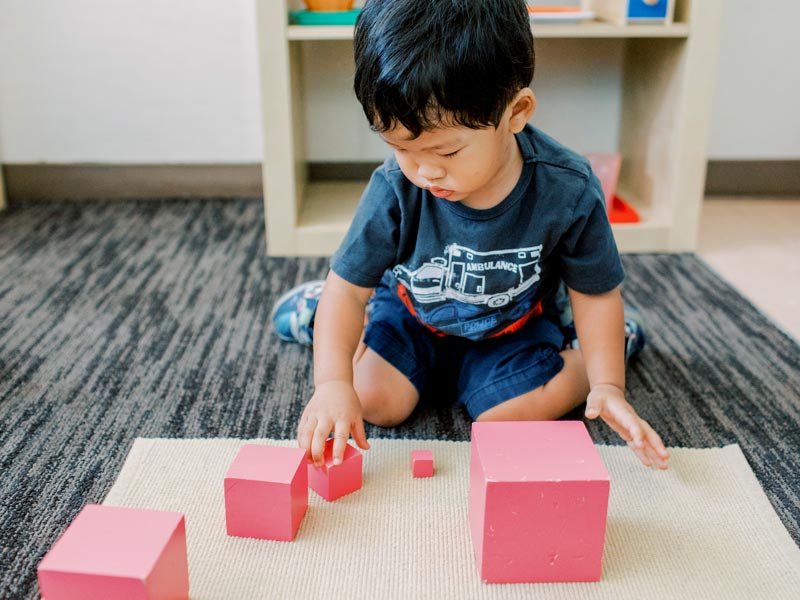 Committed to Your Child's Development
Each Montessori area is meant to spark interest in a different topic. Whether your child loves animals or prefers to make music, our Carmichael school has something for them. Our teachers remain committed to helping your child develop into a well-rounded individual prepared to start school in the coming years. Be sure to let our team know if you have any questions about our curriculum or yearly schedule.
So Much to Explore in a Safe and Prepared Environment
Variety is the spice of life, even for young children. At Montessori Children's School, we want to give your child the chance to explore their interests more in-depth, as well as gain an appreciation for other topics and discover new ideas. You can expect your child to learn and make discoveries in these learning areas of the Montessori classroom:

Math
We're here to help your child develop a hands-on approach to building a strong sense of numbers and practice basic math concepts they will need to be ready for kindergarten and beyond.

Language
Language and communication are some of the most important skills for a child to grasp. Our curriculum centered around language is designed to help your child increase their vocabulary and comprehension. Our early literacy program prepares your child for handwriting and reading at their own rhythm. Our teachers guide children in meaningful language experiences to develop confident learners.

Practical Life
At Montessori Children's School, we're excited to provide lots of hands-on practical life experiences. These activities use real tools to do real jobs that develop your child's coordination and concentration, as well as their critical thinking and problem solving skills. Your child will come away with a strong sense of independence and confidence as they develop knowledge of food preparation, cleanliness of themselves and their environment, social graces and manners, and much more.

Cultural Studies
The cultural studies area is where your child will learn about the greater world around them. They will explore the sciences such as botany, and zoology while developing an appreciation for the natural world. They will also learn about social studies including geography, history, art and music. Your child will explore maps, globes, and flags. Continent studies and guided discussions develop your child's appreciation for their own and other cultures. The arts are a crucial part of a well-rounded education. Our teachers prepare activities that allow your child to flex their creative muscles with drawing, music appreciation, and more.

Sensorial
Children are sensorial learners; they use their five senses to learn important details and attributes about their environment. Your child will use our hands-on, sensorial materials developed by Maria Montessori to discover and explore details like color, shape, texture, smell, sound, weight, and temperature to help them better understand the world around them.
Come Explore and Learn With Montessori Children's School!